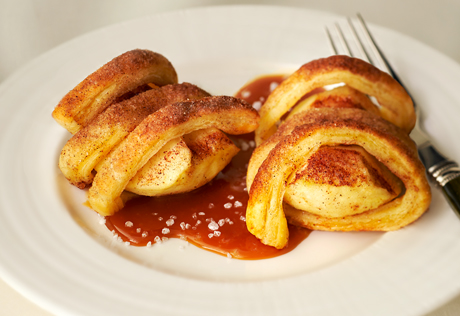 Ingredients & Directions
1.5 teaspoons ground cinnamon
6 tablespoons sugar
5 medium Granny Smith apple, peeled, cored and cut in quarters
1/4 cup (1/2 stick) butter, melted
2 tablespoons all-purpose flour
1/2 of a 17.3-ounce package Pepperidge Farm® Puff Pastry Sheets(1 sheet), thawed
1.25 cups caramel topping, warmed
1.25 teaspoons coarse sea salt
Heat the oven to 400°F.  Line 2 baking sheets with parchment paper.  Stir the cinnamon and sugar in a small bowl. 

Place the apples into a large bowl.  Add 2 tablespoons butter and toss to coat.  Sprinkle with 2 tablespoons cinnamon-sugar and toss to coat.

Sprinkle the flour on the work surface.  Unfold the pastry sheet on the work surface.  Roll the pastry sheet into a 10-inch square.  Cut into 20 (1/2-inch) strips.

Place the apple quarters, cut-side up, on the work surface.  Wrap 1 pastry strip around each apple quarter, starting at the bottom, then wrapping lengthwise three times, up over the left side, then the center, then the right side.  Press the ends firmly to the apple to hold the spiral in place.  Place the pastries onto the baking sheets.  Brush the pastries with the remaining butter and sprinkle with the remaining cinnamon-sugar.
Bake for 20 minutes or until the apples are tender and the pastry is golden brown.  Remove the pastries from the baking sheets and let cool on wire racks for 10 minutes.

Spoon 2 tablespoons caramel sauce onto each of 10 plates.  Sprinkle each with 1/8 teaspoon sea salt and top with 2 pastries.

Tips
Recipe Note: Parchment paper keeps the pastry from sticking to the baking sheet and also makes for easier cleanup. If you don't have parchment paper, you can spray the baking sheet with cooking spray instead. However, cooking spray may cause the bottoms of the pastries to brown more quickly, so begin checking for doneness 5 minutes early.
Serving Suggestion:  Add 1/2 cup vanilla ice cream to each plate, if desired.