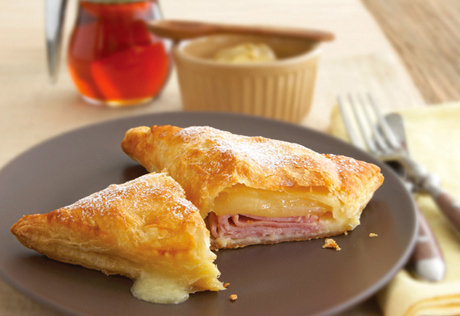 Ingredients & Directions
1 egg
1 tablespoon water
2 tablespoons all-purpose flour
1/2 of a 17.3-ounce package Pepperidge Farm® Puff Pastry Sheets (1 sheet), thawed
8 slices deli ham (Black Forest)
4 slices deli Swiss cheese (about 4 ounces)
2 teaspoons confectioners' sugar
1 cup pure maple syrup
Heat the oven to 400°F.  Beat the egg and water in a small bowl with a fork. 

Sprinkle the flour on the work suface.  Unfold the pastry sheet on the work surface.  Roll the pastry sheet into a 12-inch square.  Cut into 4 (6-inch) squares.  Brush the edges of the pastries with the egg mixture.

With a corner of 1 pastry facing you, place 2 slices ham and 1 slice cheese on the bottom half of the pastry.  Fold the pastry over the filling to form a triangle and press the edges to seal.  Crimp the edges with a fork.  Repeat with the remaining pastries.  Brush the pastries with the egg mixture.  Place the pastries onto a baking sheet.

Bake for 20 minutes or until the pastries are golden brown.  Sprinkle the pastries with the confectioners' sugar.  Serve with the maple syrup.

Tips
Easy Substitution: For a savory twist, serve with Dijon-style mustard instead of the maple syrup.