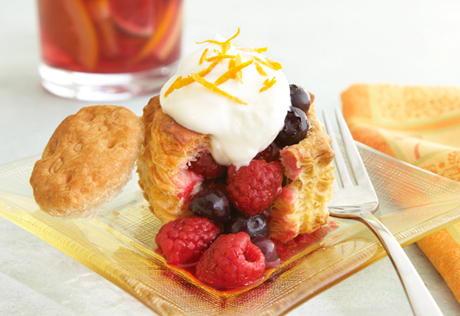 Ingredients & Directions
1 orange
3 packages (6 ounces each ) fresh raspberries(about 3 cups)
1 package (6 ounces) fresh blueberries(about 1 cup)
1/4 cup water
5 tablespoons sugar
1 cup heavy cream
1 package (10 ounces) Pepperidge Farm® Puff Pastry Shells, prepared according to package directions
Grate 1/2 teaspoon zest from the orange.

Heat 1 package raspberries, the blueberries, water, 4 tablespoons sugar and half the orange zest in a 2-quart saucepan over medium-high heat to a boil.  Reduce the heat to medium-low.  Cook for 10 minutes, stirring occasionally.  Remove the saucepan from the heat and let cool for 25 minutes.  Stir in the remaining raspberries.

Beat the heavy cream and the remaining sugar in a medium bowl with an electric mixer on medium speed until stiff peaks form.

Spoon the raspberry mixture into the pastry shells.  Top with the whipped cream.  Sprinkle with the remaining orange zest.  Top with the pastry tops.

Tips
Recipe Note: Add some extra sparkle to the pastry shells with sugar.  Beat 1 egg and 1 tablespoon water in a small bowl with a fork.  Brush the tops of the unbaked pastry shells with the egg mixture and sprinkle with granulated sugar.  Bake according to the package directions.  To ensure that the shells "puff" properly, make sure to brush only the tops of the unbaked shells with the egg mixture.