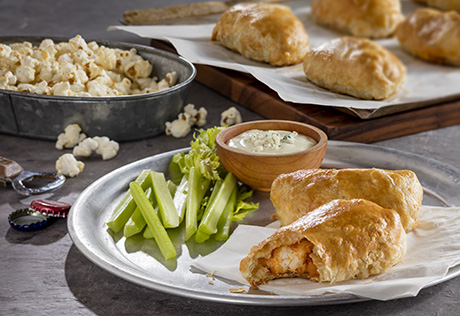 Ingredients & Directions
1 package (17.3 ounces) Pepperidge Farm® Puff Pastry Sheets, thawed
1 package (about 25 ounces) frozen fully-cooked buffalo-style breaded chicken strips
3/4 cup blue cheese salad dressing
12 celerysticks
Heat the oven to 375°F.  Line a baking sheet with parchment paper.
Unfold 1 pastry sheet on a lightly floured surface.  Roll the pastry sheet into a 14x12-inch rectangle. Cut into 3 (14x4-inch) strips.  Cut each strip in half to make 6 (7x4-inch) pieces.  Repeat with remaining pastry sheet.
Cut the chicken strips into 3-inch pieces.  Place 1 chicken piece on each pastry strip.  Fold the short sides of the pastry to the center over the chicken and roll up like a jelly roll.  Press the ends to seal.  Place the filled pastries, seam-side down, onto the baking sheet.  Reserve the remaining chicken for another use.
Bake for 20 minutes or until the pastries are golden brown.  Serve the pastries with the dressing and celery.
Tips
Recipe Note: Parchment paper keeps the pastry from sticking to the baking sheet and also makes for easier cleanup. If you don't have parchment paper, you can spray the baking sheet with cooking spray instead. However, cooking spray may cause the bottoms of the pastries to brown more quickly, so begin checking for doneness 5 minutes early.