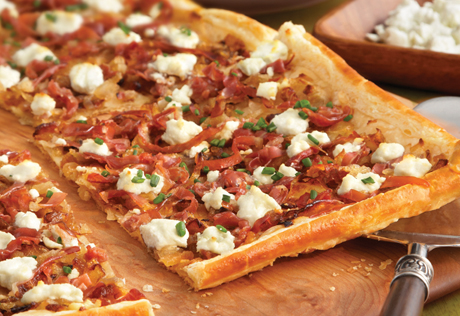 Ingredients & Directions
2 tablespoons all-purpose flour
1/2 of a 17.3-ounce package Pepperidge Farm® Puff Pastry Sheets(1 sheet), thawed
2 tablespoons olive oil
4 large onion, cut in half and thinly sliced (about 4 cups)
0.333 pound thinly sliced prosciutto, cut into matchstick-thin strips
1 package (4 ounces) goat cheese, crumbled (about 1 cup)
2 tablespoons chopped fresh chives
Sprinkle the flour on the work surface.  Unfold the pastry sheet on the work surface.  Roll the pastry sheet into a 12 x 16-inch rectangle.  Brush the edge with water.  Roll the edge in 1/4-inch on all sides to form a rim.  Prick the center of the pastry thoroughly with a fork.  Place the pastry onto a baking sheet.  Refrigerate until ready to use.
Heat the oven to 400°F.

Heat the oil in a 12-inch skillet over medium-low heat.  Add the onions and cook for 20 minutes or until golden brown, stirring occasionally.  Remove the skillet from the heat and let cool for 15 minutes.

Spread the onions on the pastry to the rim.  Top with the prosciutto and cheese.

Bake for 20 minutes or until the pastry is golden brown.  Sprinkle with the chives.

Tips
Serving Suggestion: Serve this main dish tart with a green salad tossed with your favorite dressing.