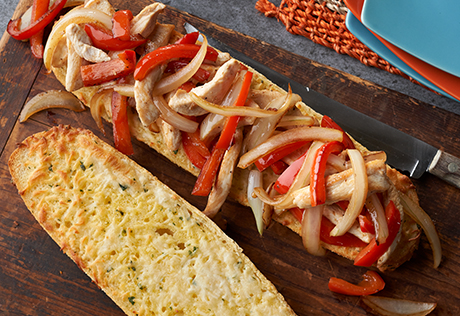 Ingredients & Directions
1 loaf (11 3/4 ounces) Pepperidge Farm® Five Cheese and Garlic Bread or Pepperidge Farm® Mozzarella and Garlic Bread
1/2 pound boneless, skinless chicken breast, cut into strips
3 tablespoons vegetable oil
1 small green pepper or red bell pepper, cut into 2-inch long strips (about 1 cup)
1 medium onion, cut in half and sliced (about 1/2 cup)
Prepare the garlic bread according to the package directions.  While the bread is baking, season the chicken as desired.
Heat 2 teaspoons oil in a 10-inch skillet over medium-high heat.  Add the chicken and cook fo 5 minutes or until browned, stirring often.  Remove the chicken from the skillet.
Reduce the heat to medium.  Heat the remaining oil in the skillet.  Add the pepper and onion and cook until tender, stirring occasionally.  Return the chicken to the skillet and cook until the chicken is cooked through.
Separate the bread halves.  Spoon the chicken mixture onto the bottom bread half and top with the top bread half.  Cut the sandwich in quarters.