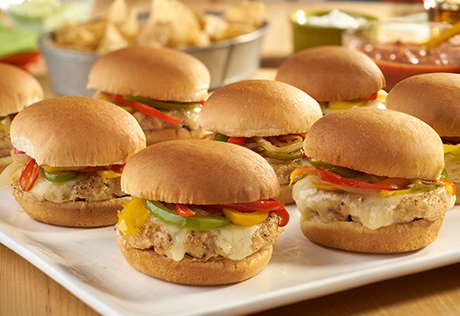 Ingredients & Directions
1 tablespoon olive oil
3 (1 each red, green and yellow bell pepper), cut into very thin strips
2 large onion, cut in half and very thinly sliced (about 2 cups)
2 pounds ground chicken
8 ounces Cabot™ Seriously Sharp Cheddar Cheese, cut into 12 slices
1 package (15 ounces) Pepperidge Farm® White Slider Buns (12 buns), split and toasted
Heat the oil in a 12-inch skillet over medium-high heat.  Cook the peppers and onions for 10 minutes or until lightly browned and very tender, stirring occasionally.  Season the vegetables as desired.
Shape the chicken into 12 (3-inch) mini burgers.  Season the burgers as desired.  
Heat the broiler to HIGH.  Place the burgers on a rack in a broiler pan.  Broil 3-inches from the heat for 6 minutes or until the burgers are cooked through, turning over once halfway through the cooking time.  Top the burgers with the cheese.
Reduce the broiler to LOW.  Broil for 1 1/2 minutes or until the cheese is melted.  Place the burgers on the bottom bun halves.  Divide the vegetable mixture among the burgers and top with the top bun halves.