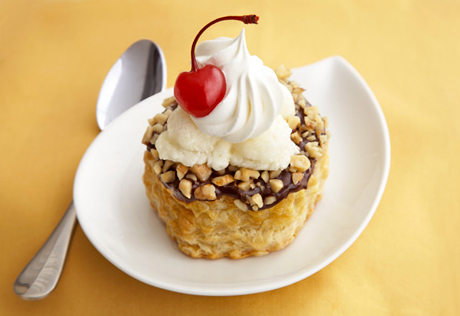 Ingredients & Directions
3/4 cup chocolate fudge topping
6 tablespoons finely chopped walnuts
1 package (10 ounces) Pepperidge Farm® Puff Pastry Shells, prepared according to package directions
3 cups French vanilla ice cream
3/4 cup sweetened whipped cream
6 maraschino cherry
Pour the topping into a shallow bowl.  Pour the walnuts into a dish.  Dip the rims of the pastry shells into the topping.  Coat with the walnuts.

Spoon the remaining topping into the pastry shells.  Spoon 1/2 cup ice cream into each pastry shell.  Top with additional topping, if desired, the whipped cream and cherries.
Tips
Cooking Basics: Mini ice cream balls look great in this recipe.  Use a melon baller to create mini ice cream balls.  Place the balls onto a baking sheet and freeze until firm.  Divide the ice cream balls among the pastry shells and top as directed above.
Easy Substitution: You may substitute caramel ice cream topping for the chocolate in this recipe.
Easy Substitution: You can use pecans instead of walnuts in this recipe, if you prefer.