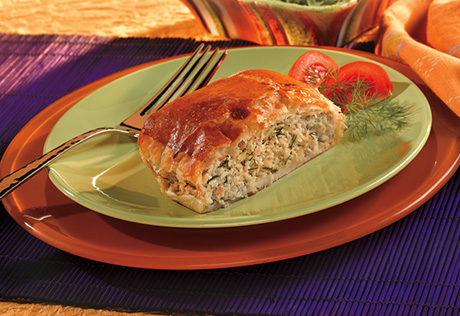 Ingredients & Directions
3 egg yolk
3 egg white
1 tablespoon water
3 tablespoons butter
3 tablespoons all-purpose flour
1/2 cup liquid non dairy creamer
1/2 cup dry white wine
1 tablespoon soy sauce
1/8 teaspoon garlic powder
2 pounds cooked boneless, skinless chicken breast, shredded (about 4 cups)
1/8 teaspoon ground white pepper
1 package (8 ounces) mushrooms(about 3 cups)
1/8 teaspoon black pepper
1 small onion, chopped (about 1/4 cup)
3 tablespoons chopped fresh dill weed
1 package (17.3 ounces) Pepperidge Farm® Puff Pastry Sheets, thawed
Heat the oven to 400°F.  Beat 1 egg yolk and the water in a small bowl with a fork.
Heat the margarine in a 2-quart saucepan over medium heat. Stir in the flour. Slowly stir in the creamer and wine.  Cook and stir until the mixture boils and thickens.  Stir in the soy sauce, white pepper, black pepper and garlic powder.
Place the chicken, mushrooms, onion and dill into a food processor.  Cover and process until the mixture is coarsely chopped.  Add the remaining egg yolks and the creamer mixture. Process just until combined.  Spoon the chicken mixture into a large bowl.
Beat the egg whites in a medium bowl with an electric mixer on high speed until stiff peaks form.  Fold the egg whites into the chicken mixture.
Sprinkle additional flour on the work surface.  Unfold 1 pastry sheet on the work surface.  Roll the pastry sheet into a 15 x 9-inch rectangle.  With a short side facing you, spoon half the chicken mixture lengthwise down the center of the pastry.  Fold the long sides of the pastry over the filling.  Press the seam to seal.  Place the pastry seam-side down onto a baking sheet.  Tuck the ends under to seal.  Repeat with the remaining pastry sheet and chicken mixture.  Brush the pastries with the egg mixture.
Bake for 30 minutes or until the pastries are golden brown. Let the pastries cool on the baking sheets on wire racks for 10 minutes.