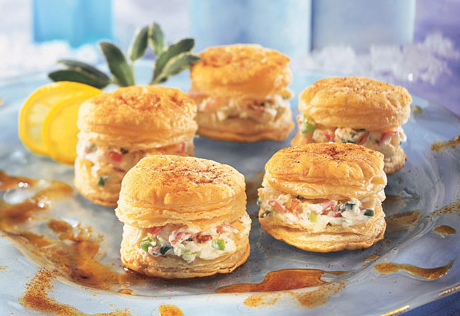 Ingredients & Directions
1/2 of a 17.3-ounce Pepperidge Farm® Puff Pastry Sheets(1 sheet), thawed
1 package (8 ounces) cream cheese, softened
1 tablespoon milk
1 tablespoon prepared horseradish
1/4 teaspoon black pepper
1 can (about 6 ounces) refrigerated lump crabmeat, drained
4 green onion, sliced (about 1/2 cup)
1/2 cup sliced almonds
1/4 teaspoon paprika
Heat the oven to 400°F.
Unfold the pastry sheet on a lightly floured surface.  Cut the pastry sheet into 12 (2-inch) circles with a cutter.  Place the pastry circles onto a baking sheet.
Bake for 15 minutes or until the pastries are golden brown.  Remove the pastries from the baking sheet and let cool on a wire rack for 10 minutes.  Split each pastry into 2 layers, making 24 in all.

Stir the cream cheese in a medium bowl until smooth.  Stir in the milk, horseradish, black pepper and crabmeat.
Spread the crabmeat mixture on 12 bottom pastry layers. Top with the onions, almonds and top pastry layers.  Sprinkle with the paprika.
Tips
Tip: To soften the cream cheese, remove from the wrapper.  Place the cheese onto a microwaveable plate.  Microwave on HIGH for 15 seconds or until softened.