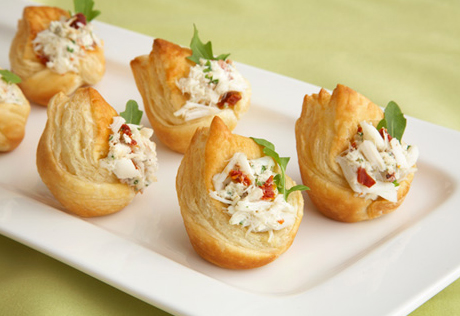 Ingredients & Directions
1 can (6 ounces) lump crabmeat, drained
1 package (5.2 ounces) spreadable garlic & herb cheese, softened
1/4 cup drained diced jarred sun-dried tomatoes
1 package (17.3 ounces) Pepperidge Farm® Puff Pastry Sheets, thawed
1 bunch baby arugula
Heat the oven to 400°F.  Stir the crabmeat, cheese and tomatoes, if desired, in a medium bowl.  Cover and refrigerate until ready to fill the pastries. 

Unfold 1 pastry sheet on a lightly floured surface.  Roll the pastry sheet into a 10-inch square.  Trim to make a 9-inch square.  Cut the pastry into 9 (3-inch) squares.  Cut each pastry square in half diagonally to make 2 triangles.  Repeat with the remaining pastry sheet, making 36 triangles in all.

Fold the 2 bottom corners of each pastry triangle to the center and press to seal.  Press the pastries into 36 (1 1/2-inch) mini muffin-pan cups, with the pointed end slightly higher on one side of the muffin-pan cup.

Bake the pastries for 15 minutes or until the pastries are golden brown.  Using the back of a spoon, press down the centers of the hot pastries to form an indentation.  Let the pastries cool in the pans on wire racks for 10 minutes.

Arrange about 3 leaves arugula in each pastry.  Spoon about 1 teaspoon crabmeat mixture into each pastry.  Serve immediately.