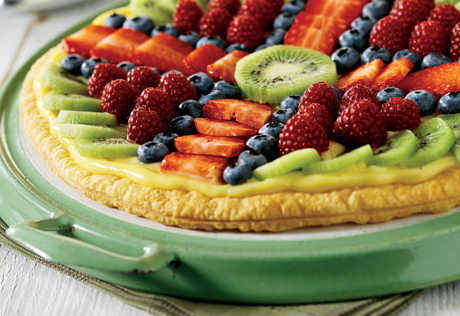 Ingredients & Directions
1 package (17.3 ounces) Pepperidge Farm® Puff Pastry Sheets, thawed
1 package (3.4 ounces) instant vanilla pudding and pie filling mix
2 cups milk
1 cup sliced strawberries
1 cup sliced kiwi
1 cup raspberries
1 cup blueberries
Heat the oven to 400°F.
Unfold 1 pastry sheet on a lightly floured surface.  Roll the pastry sheet into a 12-inch square. Cut off the corners to make a circle.  Repeat with the remaining pastry sheet.  Place the pastry circles onto baking sheets. Prick the pastry thoroughly with a fork.
Bake for 20 minutes or until the pastries are golden brown. Remove the pastries from the baking sheets and let cool on wire racks for 30 minutes.
Prepare the pudding mix according to the package directions with the milk. Spread 1 cup pudding onto each crust to within 1/2-inch of the edge.  Arrange the fruit over the pudding.  Serve immediately or cover and refrigerate for up to 4 hours.
Tips
Tip: To make the pastries ahead: Prepare, bake and cool the pastry sheets as directed above.  Wrap the baked pastries in plastic wrap and store at room temperature for up to 24 hours.