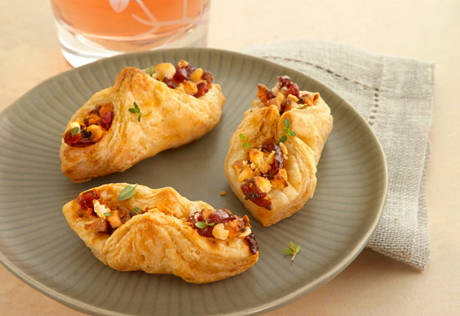 Ingredients & Directions
1/2 of a 17.3-ounce package Pepperidge Farm® Puff Pastry Sheets(1 sheet), thawed
1 egg
1 tablespoon water
1 cup crumbled goat cheese(about 4 ounces)
1/4 cup cranberry chutney
1/4 cup finely chopped toasted walnuts
2 tablespoons chopped fresh thyme leaves(optional)
Heat the oven to 400°F.  Beat the egg and water in a small bowl with a fork or whisk.  Unfold the pastry sheet on a lightly floured surface.  Roll the pastry sheet into a 12-inch square.  Cut into 25 (2 1/4-inch) squares.
Spoon about 2 teaspoons cheese in the center of each pastry square.  Top each with about 1/2 teaspoon chutney and about 1/2 teaspoon walnuts.  Brush 2 opposite pastry corners with the egg mixture.  Fold the pastry corners up over the filling and and press firmly to seal, then fold over to one side, forming an open-ended envelope.  Brush the filled pastries with the egg mixture.  Place the pastries onto 2 baking sheets.
Bake for 15 minutes or until the pastries are golden brown.  Sprinkle the pastries with the thyme before serving, if desired.