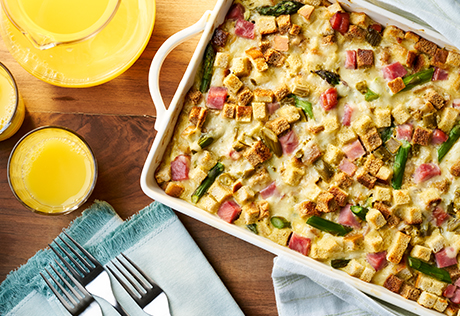 Ingredients & Directions
4 cups Pepperidge Farm® Country Style Stuffing
2 cups shredded Swiss cheese(about 8 ounces)
1.5 cups cooked cut asparagus
1.5 cups cubed cooked ham
1 can (10 1/2 ounces) Campbell's® Condensed Cream of Asparagus Soup or (10 1/2 ounces) Campbell's® Condensed Cream of Mushroom Soup
2 cups milk
5 egg
1 tablespoon Dijon-style mustard
Heat the oven to 350°F. Stir the stuffing, cheese, asparagus and ham in a greased 3-quart shallow baking dish.
Beat the soup, milk, eggs and mustard in a medium bowl with a fork or whisk. Pour over the stuffing mixture.  Stir and press the stuffing mixture into the milk mixture to coat.
Bake for 45 minutes or until a knife inserted in the center comes out clean. Let stand for 5 minutes.  If you'd prefer a meatless strata, try: Cheddar-Swiss Strata
Tips
For 1 1/2 cups cooked cut asparagus use 3/4 pound fresh asparagus, trimmed and cut into 1-inch pieces or 1 package (about 10 ounces) frozen asparagus spears, thawed, drained and cut into 1-inch pieces.