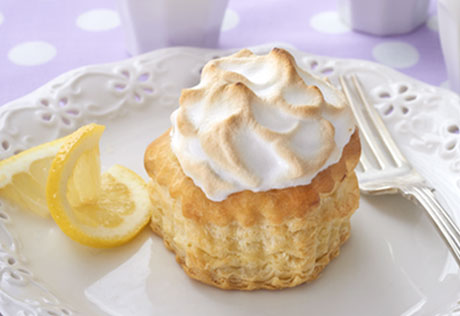 Ingredients & Directions
1 package (about 3 ounces) lemon pudding and pie filling mix
1 teaspoon grated lemon zest
1 package (10 ounces) Pepperidge Farm® Puff Pastry Shells, prepared according to package directions
2 egg white
1/4 cup sugar
Cook the pudding mix according to the package directions for pie filling.  Stir in the lemon zest.  Let the pudding cool to room temperature.
Spoon about 1/3 cup pudding into each pastry shell.  Heat the oven to 325°F.
Beat the egg whites in a large bowl with an electric mixer on high speed until frothy.  Gradually add the sugar and beat until soft peaks form.  Spoon the meringue over the pudding and spread to the edges of the pastry shells.  Place the filled pastry shells onto a baking sheet.
Bake for 10 minutes or until the meringue is lightly browned.  Let the pastries cool on the baking sheet on a wire rack for 20 minutes.
Tips
Easy Substitution: You can substitute sweetened whipped cream or thawed frozen whipped topping for the egg whites and sugar.  Spoon the whipped cream over the pudding in the pastry shells. Garnish with lemon slices, if desired.  Serve immediately or cover and refrigerate for up to 4 hours.