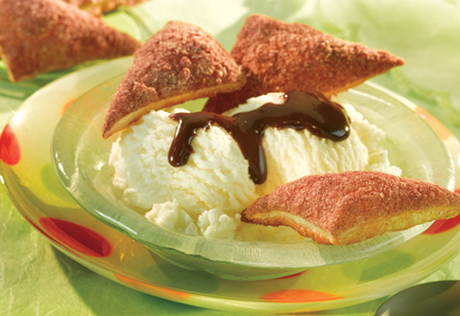 Ingredients & Directions
1/2 cup sugar
2 teaspoons ground cinnamon
1 teaspoon unsweetened cocoa powder
1/2 of a 17.3-ounce package Pepperidge Farm® Puff Pastry Sheets(1 sheet), thawed
4 cups vanilla ice cream
3/4 cup chocolate sauce
0.333 cup pecans, toasted and chopped
Heat the oven 375°F.  Stir the sugar, cinnamon and cocoa powder in a small bowl.
Lightly sprinkle the work surface with 1/4 cup sugar mixture.  Unfold the pastry sheet on the sugar mixture and sprinkle with the remaining sugar mixture.  Roll the dough into a 12x12-inch square.  Cut into 4 (12x3-inch) strips.  Cut each strip into 4 (3-inch) squares, then cut each square diagonally to make triangles, making 32 in all.  Place the pastry triangles onto 2 baking sheets.
Bake for 15 minutes or until the pastries are golden brown.  Remove the pastries from the baking sheet and let cool completely on a wire rack.
Spoon 1/2 cup ice cream into each of 8 bowls.  Drizzle with the chocolate sauce.  Top each with 4 pastries.  Sprinkle with the nuts, if desired.  Serve immediately.