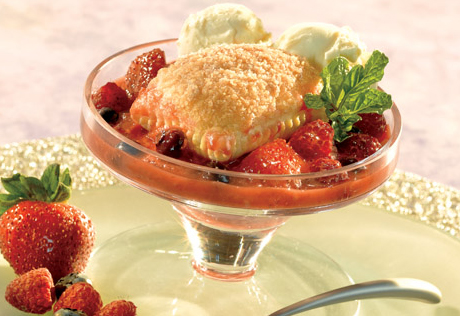 Ingredients & Directions
1/2 of a 17.3-ounce package Pepperidge Farm® Puff Pastry Sheets(1 sheet), thawed
1/2 cup sugar
8 cups sliced fresh strawberries
1 tablespoon finely grated lemon zestand/or fresh blueberries, raspberries, blackberries
3 tablespoons cornstarch
3 tablespoons water
4 cups vanilla ice cream
Heat the oven to 400°F.
Sprinkle the work surface with 2 tablespoons sugar.  Unfold the pastry sheet onto the sugar.  Roll the pastry sheet into a 10 x 9-inch rectangle.  Cut into 8 (4 1/2x2 1/2-inch) rectangles.
Stir the cornstarch and water in a small bowl until smooth.  Heat the berries, lemon zest and remaining sugar in a 2-quart saucepan over medium heat to a boil.  Stir in the cornstarch mixture.  Cook and stir for 5 minutes or until mixture boils and thickens. Spoon the berry mixture into a 3-quart shallow baking dish. Top the berry mixture with the pastry rectangles, sugar-side up, but not touching.
Bake for 20 minutes or until pastry is golden brown.  Let the cobbler cool in the baking dish on a wire rack for 10 minutes.  Serve with the ice cream.