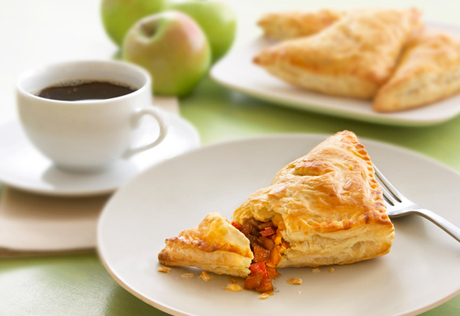 Ingredients & Directions
2 Granny Smith apple, peeled and cut into cubes
1 medium onion, diced (about 1/2 cup)
2 tablespoons apple cider vinegar
1/4 cup packed dark brown sugar
1/2 teaspoon ground cinnamon
1/4 teaspoon ground ground cardamom
1/8 teaspoon ground ground cloves
1/8 teaspoon ground nutmeg
1/8 teaspoon ground star anise
1/8 teaspoon ground black pepper
1.5 teaspoons pure maple syrup
1 package (17.3 ounces) Pepperidge Farm® Puff Pastry Sheets, thawed
8 ounces (1/2 of a 16-ounce package) thick-cut bacon, diced, cooked and drained
1 cup shredded Cheddar cheese(about 4 ounces)
1 egg, beaten
Heat the oven to 400°F.

Heat the apples, onion, vinegar, brown sugar, cinnamon, cardamom, cloves, nutmeg, star anise, black pepper and maple syrup in a 3-quart saucepan over low heat.  Partially cover and cook for 20 minutes or until the apples and onion are tender, stirring occasionally.

Uncover the saucepan.  Increase the heat to medium.  Cook and stir until the liquid is evaporated.  Remove the saucepan from the heat and let cool to room temperature.

Unfold 1 pastry sheet on a lightly floured surface.  Cut the pastry sheet in quarters.  Repeat with the remaining pastry sheet.  Spoon about 1/4 cup apple mixture in the center of each pastry quarter.  Top each with 1 tablespoon bacon and 2 tablespoons cheese.  Fold the pastry in half over the filling to form a triangle.  Crimp the edges with a fork to seal.  Cut a small slit in the top of each filled pastry.  Brush the pastries with the egg.  Place the pastries onto a baking sheet.

Bake for 20 minutes or until the pastries are golden brown.  Let the pastries cool on the baking sheet on a wire rack for 10 minutes.