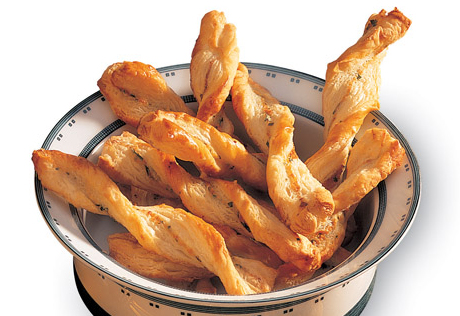 Ingredients & Directions
1/2 of a 17.3-ounce package Pepperidge Farm® Puff Pastry Sheets(1 sheet), thawed
1 egg
1 tablespoon water
1/4 cup grated Parmesan cheese
1 tablespoon chopped fresh parsley
1/2 teaspoon dried oregano leaves, crushed
Heat the oven to 400°F.  Beat the egg and water in a small bowl with a fork or whisk.  Stir the cheese, parsley and oregano in a small bowl.
Unfold the pastry sheet on a lightly floured surface.  Roll the pastry sheet into a 14x10-inch rectangle. Cut in half lengthwise.  Brush the halves with the egg mixture.  Top 1 half with the cheese mixture.  Place the remaining half over the filling, egg-side down.  Roll gently with a rolling pin to seal.
Cut the pastry crosswise into 28 (1/2-inch) strips.  Twist the strips and place on a baking sheet, pressing down the ends. Brush the pastries with the egg mixture.
Bake for 10 minutes or until the pastries are golden brown.  Remove the pastries from the baking sheets and let cool on wire racks for 10 minutes.
Tips
Tip: To make ahead, place the unbaked twists onto a baking sheet and brush with the egg mixture. Cover and freeze until firm. Remove the frozen strips from the baking sheet and store in a gallon size resealable plastic bag in the freezer for up to 1 month.  Bake the frozen pastries on a baking sheet at 400°F. for 15 minutes or until the pastries are golden brown.