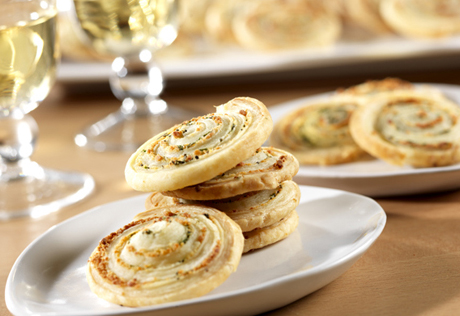 Ingredients & Directions
1/2 of a 17.3-ounce package Pepperidge Farm® Puff Pastry Sheets (1 sheet), thawed
1/4 cup grated Parmesan cheese
1 tablespoon finely chopped fresh rosemary leaves
1 tablespoon finely chopped fresh thyme leaves or fresh parsley
Heat the oven to 375°F.
Unfold the pastry sheet on a lightly floured surface. Roll the pastry sheet into a 14 x 11-inch rectangle.  Sprinkle with the cheese and herbs. Starting at a short side, roll up like a jelly roll.  Wrap the pastry roll with plastic wrap and freeze for 45 minutes or until firm.
Cut the pastry roll into 75 (1/8-inch) slices.  Place the slices, cut-side down, onto baking sheets.
Bake for 10 minutes or until the pastries are golden brown.  Remove the pastries from the baking sheets and let cool on wire racks for 10 minutes.

Tips
Chocolate Pinwheels: Substitute 4 ounces semi-sweet chocolate, melted, for the cheese and herbs.
Cinnamon-Sugar Pinwheels: Substitute a mixture of 1/2 cup sugar and 2 teaspoons ground cinnamon for the cheese and herbs.