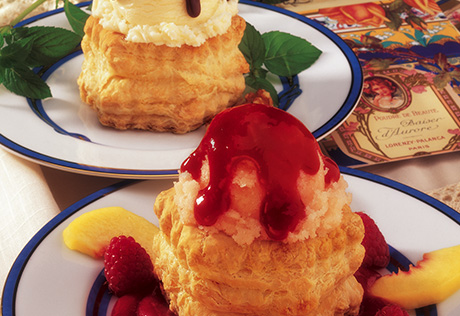 Ingredients & Directions
0.333 cup sugar
2 tablespoons cornstarch
1/2 cup water
1 package (10 ounces) frozen raspberries
1 pint peach sorbetor raspberry or strawberry sorbet or sherbet (about 2 cups)
1 package (10 ounces) Pepperidge Farm® Puff Pastry Shells, prepared according to package directions
1 can (16 ounces) sliced canned peaches in light syrup, drained
Stir the sugar, cornstarch, water and raspberries in a 1-quart saucepan.  Cook and stir until the mixture boils and thickens. Remove the saucepan from the heat.  Pour the raspberry mixture through a sieve into a medium bowl.  Let the raspberry mixture cool to room temperature.
Spread about 1 tablespoon raspberry mixture onto each of 6 dessert plates.  Spoon the sorbet into the pastry shells.  Divide the peach slices among the plates.  Spoon the remaining raspberry mixture over the sorbet.
Tips
Easy Substitution: You can substitute 4 medium peaches, peeled, pitted and sliced (about 2 cups) tossed with 1 teaspoon lemon juice and 1 tablespoon sugar for the canned peaches.