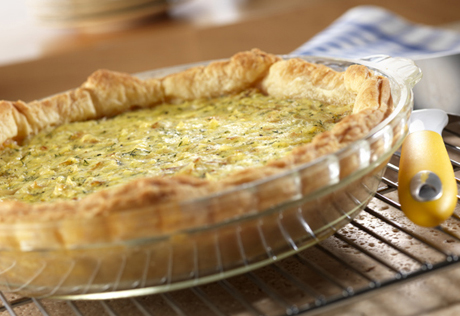 Ingredients & Directions
1/2 of a 17.3-ounce package Pepperidge Farm® Puff Pastry Sheets(1 sheet), thawed
3 tablespoons olive oil
1.5 cups chopped onion
4 cups frozen hash brown potatoes
3 egg
2 cups shredded Swiss cheese(about 8 ounces)
1 cup sour cream
1/4 cup chopped fresh fresh dill weed
1/2 teaspoon ground black pepper
Heat the oven to 375°F.
Unfold the pastry sheet on a lightly floured surface.  Roll the pastry sheet into a 12-inch square.  Place into a 9-inch pie plate.  Trim off the excess pastry.
Heat 1 tablespoon oil in a 10-inch skillet over medium heat.  Add the onions and cook until tender.  Remove the onions from the skillet.  Heat the remaining oil in the skillet.  Add the potatoes and cook for 10 minutes or until lightly browned.
Beat the eggs, cheese, sour cream, dill weed and black pepper in a large bowl with a fork or whisk. Stir in the onions and potatoes. Spoon the mixture into the pastry crust.
Bake for 40 minutes or until set.  Let the pie cool in the pan on a wire rack for 20 minutes.