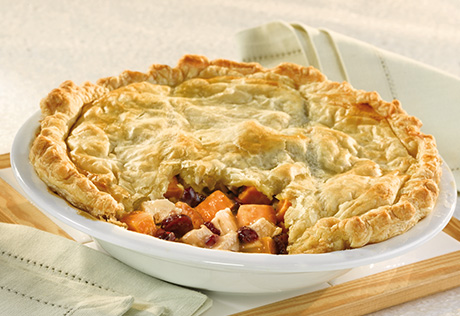 Ingredients & Directions
1/2 of a 17.3 ounce package Pepperidge Farm® Puff Pastry Sheets(1 sheet)
1 egg
1 tablespoon water
2 cans (10 1/2 ounces each ) Campbell's® Turkey Gravy
3 tablespoons all-purpose flour
1 teaspoon poultry seasoning
3 cups coarsley chopped cooked turkey
2 large sweet potato, cut into cubes (about 3 cups)
1/2 cup sweetened dried cranberries
Thaw the pastry sheet at room temperature for 40 minutes or until it's easy to handle. Heat the oven to 375°F. Stir the egg and water with a fork in a small bowl.
Stir the gravy, flour and poultry seasoning in a 9-inch deep-dish pie plate or 11 x 8-inch (2-quart) shallow baking dish. Add the turkey, sweet potatoes and cranberries and stir to coat.
Unfold the pastry sheet on a lightly floured surface. Roll the sheet into a 12 x 10-inch rectangle. Brush the baking dish edges with the egg mixture. Place the pastry over the turkey mixture. Fold over the edges 1/2 inch on all sides, pressing firmly to form a rim and flute the edges. Brush with the egg mixture. Cut several 2-inch long slits on the top.
Bake for 35 minutes or until golden and filling is hot.