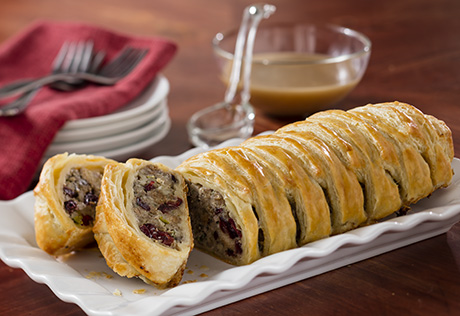 Ingredients & Directions
1 tablespoon water
2 egg
1/2 pound bulk pork sausage
1 cup Pepperidge Farm® Herb Seasoned Stuffing
4 green onion, chopped (about 1/4 cup)
3 ounces chopped mushrooms(about 1 cup)
1/2 cup sweetened sweetened dried cranberries
1/2 teaspoon dried sageleaves, crushed
1/2 of a 17.3-ounce package Pepperidge Farm® Puff Pastry Sheets(1 sheet), thawed according to package directions
1 can (10 1/2 ounces) Campbell's® Turkey Gravy, warmed (optional)
Heat the oven to 375°F. Beat the water and 1 egg in a small bowl with a fork or whisk.
Lightly stir the sausage, stuffing, green onions, mushrooms, cranberries, sage and the remaining egg in a medium bowl.
Unfold the pastry sheet on a lightly floured surface. With a short side facing you, cut slits 1-inch apart down both sides of the pastry sheet, from the outer edges to the fold marks. Spoon the sausage mixture down the center of the pastry sheet. Starting at the short side closest to you, fold the pastry strips over the sausage mixture, alternating sides, to cover the sausage mixture. Place the pastry onto a baking sheet. Brush the pastry with the egg mixture.
Bake for 30 minutes or until the pastry is golden brown. Slice the pastry and serve warm with the gravy, if desired.