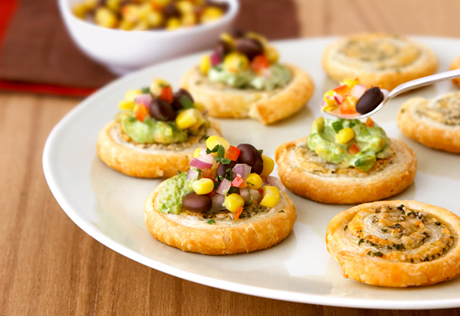 Ingredients & Directions
1 egg
1 tablespoon water
1/2 of a 17.3-ounce package Pepperidge Farm® Puff Pastry Sheets(1 sheet), thawed
1/2 cup shredded Cheddar Jack cheese
0.333 cup chopped fresh cilantro
1/2 cup fresh whole kernel cornor thawed frozen whole kernel corn
1/2 cup drained, rinsed black beans
2 tablespoons finely chopped red onion
2 tablespoons finely chopped red bell pepper
1 teaspoon minced seeded jalapeño pepper
1 teaspoon cumin
2 teaspoons lime juice
1 medium avocado, pitted and peeled
1 tablespoon sour cream
1/8 teaspoon black pepper
Heat the oven to 400°F.  Beat the egg and water in a small bowl with a fork.

Unfold the pastry sheet on a lightly floured surface.  Brush the pastry with the egg mixture.  Sprinkle with the cheese and cilantro to within 1/2 inch of the edge.  Starting at a long side, roll up like a jelly roll.  Press the seam to seal.  Cut the pastry roll into 20 (1/2-inch) slices.  Place the slices, cut-side down, onto 2 baking sheets.

Bake for 15 minutes or until the pastries are golden brown.  Gently flatten the hot pastries with a spatula.  Let the pastries cool on the baking sheets on wire racks for 10 minutes.

Stir the corn, beans, onion, red pepper, jalapeño pepper, cumin and 1 teaspoon lime juice in a medium bowl.

Mash the avocado in a medium bowl.  Stir in the sour cream and remaining lime juice.  Season with the black pepper.

Top each pastry with about 2 teaspoons avocado mixture and 1 tablespoon corn mixture.  Top with additional fresh cilantro, if desired.