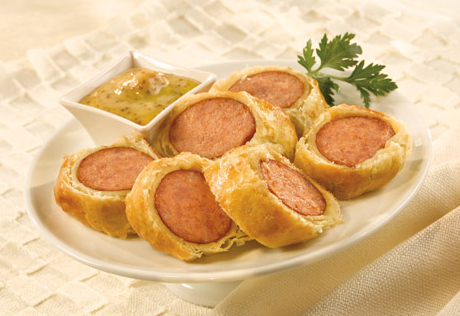 Ingredients & Directions
1/2 of a 17.3-ounce package Pepperidge Farm® Frozen Sheets Pastry Dough (1 sheet), thawed
1 egg
1 tablespoon water
2 tablespoons all-purpose flour
2 tablespoons honey mustard
14 ounces Eckrich® smoked sausage, cut into 8 pieces
Set the pastry sheet out to thaw.  Heat the oven to 375°F.  Beat the the egg and water in a small bowl with a fork or whisk.
Sprinkle the flour on the work surface.  Unfold the pastry sheet on the work surface.  Roll the pastry sheet into a 13 x 9-inch rectangle.  Brush the pastry with the honey mustard.  Cut the pastry into 8 (about 4 1/2 x 3-inch) rectangles.
Place 1 piece sausage on the long edge of each pastry rectangle. Brush the edges with the egg mixture.  Roll up the pastry around the sausage and press the seams and pinch the edges to seal.  Place the filled pastries seam-side down onto a baking sheet.  Brush the pastries with the egg mixture.
Bake for 25 minutes or until the pastries are golden brown.  Remove the pastries from the baking sheets and let cool on a wire rack for 10 minutes.  Serve whole or cut crosswise into thick slices.  Serve with additional honey mustard for dipping.
Tips
Tip: Recipe may be doubled.