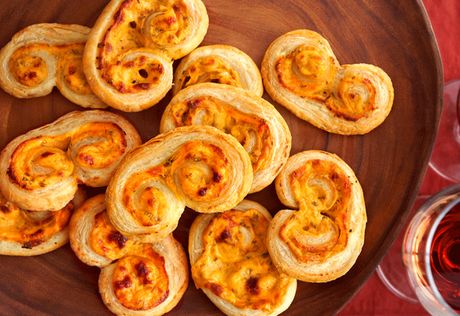 Ingredients & Directions
1/2 cup whipped cream cheese spread, at room temperature
4 teaspoons sriracha hot chili sauce
0.333 cup minced green onion
3/4 cup grated Parmesan cheese
2 tablespoons all-purpose flour
1/2 of a 17.3-ounce package Pepperidge Farm® Puff Pastry Sheets(1 sheet), thawed
Heat the oven to 400°F.  Line 2 baking sheets with parchment paper.  Stir the cream cheese, sriracha, onions and cheese in a medium bowl. 

Sprinkle the work surface with the flour.  Unfold the pastry sheet on the work surface.  Roll the pastry lightly to remove the fold marks.  Spread the cream cheese mixture on the pastry to within 1/2 inch of the edge.  Starting at both short sides, roll the pastry toward the center, leaving a 1/4 inch space in the center.  Fold one side over another, making a layered roll.  Cut the roll into 20 (1/2-inch slices).  Place the slices, cut-side down, on the baking sheets.
Bake for 20 minutes or until the pastries are golden brown.  Remove the pastries from the baking sheets and let cool on wire racks for 10 minutes.

Tips
Recipe Note: Parchment paper keeps the pastry from sticking to the baking sheet and also makes for easier cleanup. If you don't have parchment paper, you can spray the baking sheet with cooking spray instead. However, cooking spray may cause the bottoms of the pastries to brown more quickly, so begin checking for doneness 5 minutes early.
Helper: If your kitchen is very warm you might need to refrigerate the pastry roll for 15 minutes before cutting it into slices as directed in Step 2.