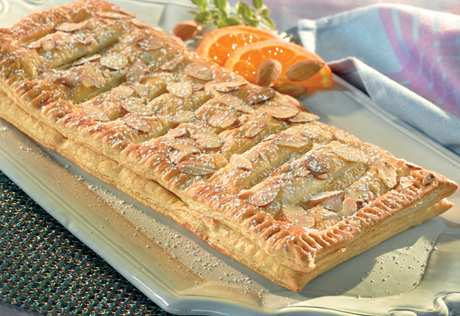 Ingredients & Directions
2 egg
1 tablespoon water
6 ounces almond paste
3 tablespoons granulated sugar
1/2 teaspoon vanilla extract
1/2 of a 17.3 ounce package Pepperidge Farm® Puff Pastry Sheets(1 sheet), thawed according to package directions
1/4 cup sliced almonds
1 tablespoon confectioners' sugar
Heat the oven to 400°F. Lightly spray a baking sheet with vegetable cooking spray or line it with parchment paper. Stir 1 egg with the water in a small bowl with a fork.
Place the almond paste, granulated sugar, remaining egg and vanilla in a food processor. Cover and process until the mixture is smooth.
Unfold the pastry on a lightly floured work surface. Roll the pastry into a 12 x 10-inch rectangle. With the short side facing you, spoon the almond mixture on the bottom half of the pastry to within 1 inch of the edges. Cut several 2-inch long slits, about 1 inch apart, on the plain side of the pastry. Fold the pastry over the filling and seal the edges with a fork. Brush the pastry with the egg mixture. Sprinkle with the almonds and place the filled pastry on the prepared baking sheet.
Bake for 12 minutes. Reduce the temperature to 375°F. Bake for 20 minutes or until the pastry is golden brown. Cool on a wire rack for 15 minutes to serve warm or let cool completely. Sprinkle with confectioners' sugar, if desired.
Tips
Recipe Note: Parchment paper keeps the pastry from sticking to the baking sheet and also makes for easier cleanup. If you don't have parchment paper, you can spray the baking sheet with cooking spray instead. However, cooking spray may cause the bottoms of the pastries to brown more quickly, so begin checking for doneness 5 minutes early.