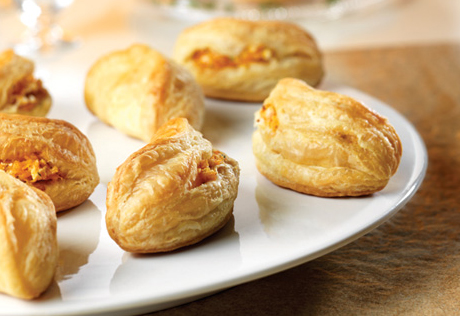 Ingredients & Directions
1 egg
1 tablespoon water
1 each medium sweet potato(about 8 ounces), peeled and diced (about 1 cup)
1 small clove garlic, minced
1 teaspoon chopped fresh thyme leaves
3 tablespoons extra-virgin olive oil
1 dash freshly ground black pepper
1 package (4 ounces) crumbled goat cheese(about 1 cup)
1 tablespoon honey
1 package (17.3 ounces) Pepperidge Farm® Puff Pastry Sheets, thawed
Heat the oven to 400°F.  Beat the egg and water in a small bowl with a fork. 

Stir the potato, garlic, thyme, oil and black pepper in a medium bowl.  Spread the potato mixture on a rimmed baking sheet.

Roast for 30 minutes or until the potato is lightly browned and tender.  Pour the potato mixture into a medium bowl.  Coarsely mash the potato mixture with a fork.  Let the potato mixture cool for 5 minutes.  Stir in the cheese and honey.

Unfold 1 pastry sheet on a lightly floured surface.  Using a round cutter, cut the pastry sheet into 9 (3-inch) circles.  Repeat with the remaining pastry sheet.

Spoon about 1 tablespoon potato mixture in the center of each pastry circle.  Brush the edges of the pastry circles with the egg mixture.  Fold the circles in half over the filling.  Pinch the edges firmly to seal.  Using a sharp knife, cut a small slit in the top of each filled pastry.  Place the pastries onto 2 baking sheets.  Brush the pastries with the egg mixture.

Bake for 20 minutes or until the pastries are golden brown.