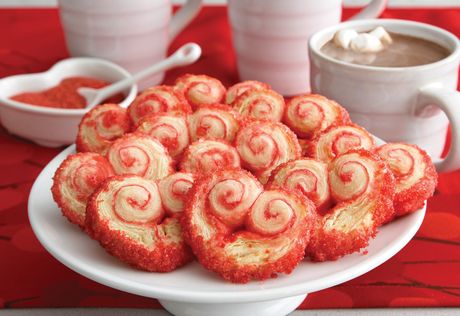 Ingredients & Directions
1 egg
1 tablespoon water
6 tablespoons red decorating sugar
1 package (17.3 ounces) Pepperidge Farm® Puff Pastry Sheets, thawed
Beat the egg and water in a small bowl with a fork.

Sprinkle 2 tablespoons sugar on the work surface.  Unfold 1 pastry sheet on the work surface.  Brush the pastry sheet with the egg mixture and sprinkle with 1 tablespoon sugar.  Roll up 2 opposite short sides towards the center, leaving a 1/2-inch space in the center.  Fold the pastry in half, placing one roll on top of the other.  The 2 rolls on one side form the top of the heart.  Pinch the center along the length of the opposite side to form the point of the heart.  Wrap the roll in plastic wrap and refrigerate for 30 minutes.  Repeat with the remaining pastry sheet.

Heat the oven to 400°F.  Cut each roll into 18 (about 1/2-inch) slices.  Place the pastries, cut-side down, onto 2 baking sheets. 

Bake for 15 minutes or until the pastries are golden brown.  Remove the pastries from the baking sheets and let cool on wire racks for 10 minutes.