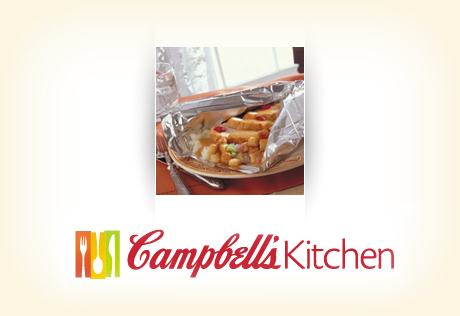 Ingredients & Directions
2 cups prepared
2 cups prepared mashed potatoes
4 sheets (12 x 18-inches each) heavy duty aluminum foil
12 slices cooked turkey
1 can (13.8 ounces)  or 1 3/4 cups Swanson® Turkey Gravy
1/2 teaspoon dried sage
1 cup sweetened dried cranberries
Heat the oven to 450°F.
Place 1/2 cup stuffing and 1/2 cup potatoes in the center of each sheet of foil. Top each with 3 slices turkey. Season the turkey as desired. Stir the gravy and sage in a small bowl and spoon the mixture over the turkey. Sprinkle with the cranberries.
Bring the sides of the foil up over the filling of each packet. Double fold the top and ends to seal (don't wrap too tightly- you'll want the heat to circulate inside the packets- just make sure the seams are sealed well). Place the packets on a baking sheet.
Bake for 15 minutes or until the filling is hot.
Tips
Make-Ahead: The unbaked packets can be frozen for up to 4 weeks. Label and date the packets with a permanent marker before freezing. Bake the frozen packets on a baking sheet in an oven heated to 450°F. for 35 minutes or until the mixture is hot.
Leftovers: This is a great way to use up your holiday leftovers!