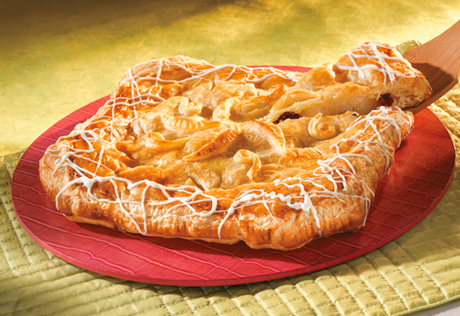 Ingredients & Directions
1 egg
1 tablespoon water
1 package (17.3 ounces) Pepperidge Farm® Puff Pastry Sheets(2 sheets), thawed
6 ounces white chocolate
2 cans (15 ounces each ) sliced canned pears in light syrup, well drained
1/4 cup sweetened dried cranberries
Heat the oven to 375°F. Beat the egg and water in a small bowl with a fork or whisk.
Unfold the pastry sheets on a lightly floured surface. Trim about 1 inch off the corners of each pastry sheet. Reserve the trimmings to use as decorations, if desired. Place 1 pastry sheet on a baking sheet.
Chop 4 squares of the chocolate. Stir the chocolate, pears and cranberries in a medium bowl. Spread the mixture in the center of the pastry sheet to within 1 inch of the edges. Brush the edges with water. Top with the remaining pastry sheet. Press the edges together with a fork to seal. Decorate with the pastry trimmings. Brush the pastry with the egg mixture. Cut several 2-inch slits, 2 inches apart on top.
Bake for 35 minutes or until the pastry is golden brown. Cool the pastry on a baking sheet on a wire rack for 30 minutes before serving. Melt the remaining chocolate and drizzle it over the pastry. Cut the pastry into 10 squares.