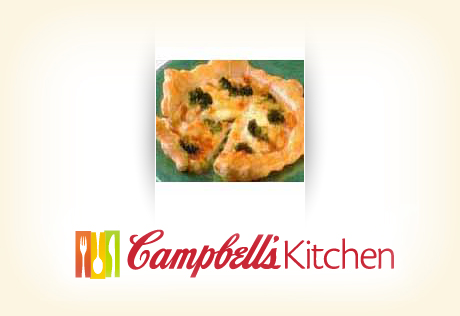 Ingredients & Directions
1 package (10 ounces) Pepperidge Farm® Puff Pastry Shells, thawed according to package directions
1 tablespoon olive oil
1.5 cups small broccoliflorets
1/4 teaspoon garlic powderor 1 clove garlic, minced
1 cup ricotta cheese
1/4 cup grated Parmesan cheese
1 egg
1 cup shredded mozzarella cheese(about 4 ounces)
Heat the oven to 400°F.
Roll the pastry shells into 7-inch circles on a lightly floured surface. Place the pastries onto 2 large baking sheets. Prick the pastries thoroughly with a fork. Bake for 10 minutes.
Heat the oil in a 10-inch skillet over medium heat. Add the broccoli and garlic powder and cook until the broccoli is tender-crisp.
Stir the ricotta cheese, Parmesan cheese and egg in a medium bowl. Spread the mixture over the pastries to within 1/2-inch of the edges. Top with the broccoli mixture and sprinkle with the mozzarella cheese. Bake for 5 minutes or until the cheese melts.
Tips
Flavor Variation: For a flavor boost, sprinkle the pizzas with crushed red pepper, oregano or additional Parmesan cheese, if desired.