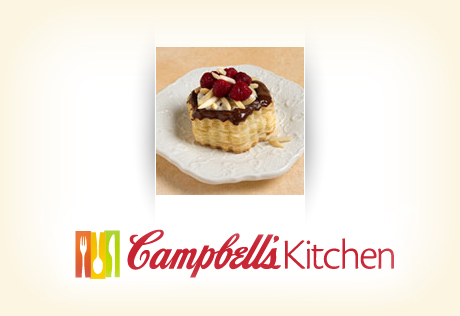 Ingredients & Directions
1 egg
1 teaspoon water
1 package (10 ounces) Pepperidge Farm® Puff Pastry Shells
1 bar (about 4 ounces) dark chocolate
1 cup whole milk ricotta cheese
0.333 cup confectioners' sugar
1 teaspoon almond extract
1 package (about 10 ounces) frozen raspberries in syrup, thawed
6 tablespoons slivered almonds
Heat the oven to 400°F. Lightly grease or line a baking sheet with parchment paper. Beat the egg and water in a small bowl with a fork or whisk.
Place the pastry shells onto the baking sheet. Brush the pastry shells with the egg mixture.
Bake, cool and remove the tops of the pastry shells according to the package directions. Reserve the pastry tops.
Using a vegetable peeler, shave 2 tablespoons chocolate from the bar. Reserve the chocolate shavings. Break the remaining chocolate into 1-inch pieces and place into a small microwave-safe bowl. Microwave on HIGH for 30 seconds. Stir. Repeat until the chocolate is melted and smooth.
Dip 1-inch of each reserved pastry top into the melted chocolate and place on wire racks. Let cool for 15 minutes or until the chocolate is firm.
Stir the ricotta cheese, confectioners' sugar and almond extract in a medium bowl. Fold in the reserved chocolate shavings.
Spoon about 2 tablespoons ricotta mixture into each pastry shell. Top each with 1 tablespoon each raspberries and almonds. Serve with the chocolate-dipped tops.