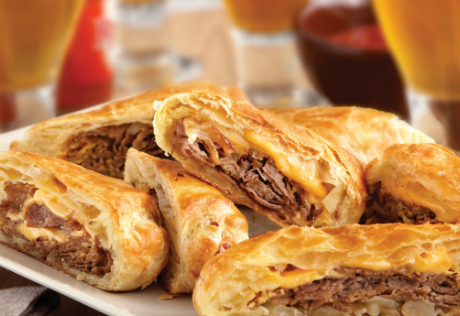 Ingredients & Directions
2 tablespoons all-purpose flour
1/2 of a 17.3-ounce package Pepperidge Farm® Puff Pastry Sheets (1 sheet), thawed
1 tablespoon vegetable oil
1 medium onion, cut in half and sliced (about 1 cup)
6 ounces frozen beef sandwich steak (4 portions), cut into thick strips
4 slices processed American cheese food product
1 egg, beaten
Heat the oven to 400°F.

Sprinkle the flour on the work surface.  Unfold the pastry sheet on the work surface.  Roll the pastry sheet into a 10-inch square.  Cut into 4 (5-inch) squares.

Heat the oil in a 10-inch skillet over medium heat.  Add the onion and cook until tender, stirring occasionally.  Remove the onion from the skillet.

Increase the heat to medium-high.  Add the sandwich steaks to the skillet and cook for 3 minutes or until cooked through, stirring occasionally.

Spoon one-fourth of the onion and one-fourth of the sandwich steaks on the bottom third of each pastry square.  Top each with 1 slice cheese.  Fold 2 opposite sides over the filling.  Roll up like a jelly roll.  Brush the pastries with the egg.  Place the pastries onto a baking sheet.

Bake for 20 minutes or until the pastries are golden brown.  Let the pastries cool on the baking sheet on a wire rack for 10 minutes.  Cut the pastries in half diagonally to serve.