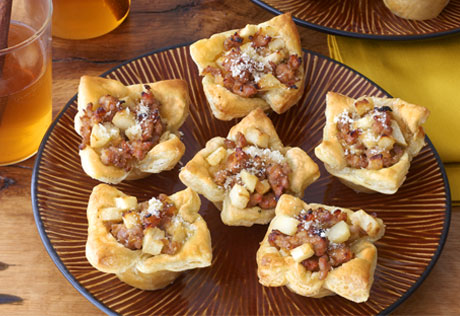 Ingredients & Directions
1/2 pound sweet Italian pork sausage, casing removed
1 medium onion, chopped (about 1/2 cup)
2 large Granny Smith apple, peeled and chopped
1 package (17.3 ounces) Pepperidge Farm® Puff Pastry Sheets, thawed
1 egg, beaten
1/2 cup grated Parmesan cheese
Heat the oven to 375°F.  Lightly grease 24 (1 1/2-inch) mini muffin-pan cups.
Cook the sausage and onion in a 10-inch skillet over medium-high heat until the sausage is well browned, stirring often to separate meat.  Pour off any fat.  Add the apples and cook until the apples are tender, stirring occasionally.
Unfold 1 pastry sheet on a lightly floured surface.  Roll the pastry sheet into a 9x12-inch rectangle.  Cut into 12 (3-inch) squares.  Repeat with the remaining pastry sheet.  Press the pastry squares into the mini muffin-pan cups.  Brush the pastries with the egg.  Spoon about 1 tablespoon sausage mixture into each muffin-pan cup.
Bake for 10 minutes.  Sprinkle the pastries with grated Parmesan cheese, if desired.
Bake for 5 minutes or until the pastries are golden brown.